Support when you need it most
Going to hospital can be stressful. You may be worried about your treatment, returning home, your overall health and more. Being prepared for your recovery can help to relieve some of this natural anxiety.
Teachers Healthcare Services' highly experienced health practitioners can support you while you prepare for your hospital stay. We can also help you consider ways to be safe and manage when you're discharged home, and support you through your recovery.
Here are some of the ways we help eligible Teachers Health members who are having hospital treatment, in the short-term and later on*.
Your recovery
However nice your hospital and medical team are, you'll probably want to get back to your own bed sooner rather than later.
Plus, recovering at home has been linked to greater mental wellbeing, a lower risk of infection and better sleep than you'd get in a busy hospital.
The services below could help you get home sooner – by providing care you'd otherwise have to stay in hospital for (which is why you may hear them called Hospital Substitute Treatment).
Hospital at home (e.g. certain types of wound care)
Rehab at home (e.g. at-home physio)
If you're receiving one of these services we'll check in with you during your recovery to make sure it's helping, and that you're doing okay.


Accessing the services
Your specialist (or medical team) will need to confirm that in-home care is a safe option for you. If you want support with this, you can call us on 1300 727 538. For us to pay for either of these services, it has to be in place of a hospital bed day and organised before you go home. To learn more, get in touch via our contact form.
Your future
If you have one or more chronic conditions, you may benefit from further support after you have recovered from your hospital stay. Your personal care coordinator will work with you to understand where you're at and support you in achieving your health goals. Programs that could help you might include:
Health Management
Dietitian Support
Osteoarthritis Management
Weight Loss
Cancer Support
Mental Wellness.
The eligibility criteria for these programs vary and are dependent on your personal situation. To learn more about these programs, go to Health Conditions.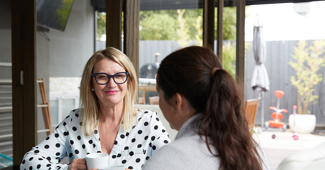 Hospital guide
Find out how get the most from your Teachers Health cover, control your costs, and be an active participant in your healthcare. 
Learn more
*To be eligible for a program you must be a member of Teachers Health and have Hospital cover with all relevant waiting periods served. Hospital cover requirements and waiting periods vary for different programs. Additional eligibility criteria may apply.
These programs are brought to members through Teachers Healthcare Services, an initiative of Teachers Health, to support members' health and wellbeing through quality, evidence-based health management. Eligible members are connected with a dedicated Teachers Healthcare Services care coordinator who supports them along the way.