Mind the gap next time you go to hospital
You're probably wondering why, even with private health cover, you sometimes have to pay for a doctor or specialist when you're an in-patient at hospital.
Let us explain why and help you avoid paying a gap next time you go to hospital.
I have hospital cover; do I have to pay a gap?
The Federal Government sets fees for certain procedures called Medicare Benefits Schedule (MBS) fees.
When you go to hospital, your medical fees are split between Medicare and your health fund – Medicare will pay up to 75% of the set MBS fee and, Teachers Health, the remaining 25%.
The problem is if your doctor charges more than the set MBS fee, you have to pay the difference.
That difference is the 'gap'.
We're going to help you avoid it or reduce it
Under Access Gap Cover, available through Teachers Health, your out-of-pocket expense can be reduced - or eliminated – if your anaesthetist, surgeon or specialist agree to charge under a certain rate.
All you've got to do is ask.
In the last financial year, over 95% of medical services paid by Teachers Health were charged under Access Gap Cover, so there's a good chance your specialist will too.
If not, you're free to find another specialist who will.
So, what is Access Gap Cover?
Access Gap Cover is a billing scheme that allows Teachers Health to pay higher benefits for your medical procedures in hospital, above the set MBS fee, up to certain limits.
In return, doctors who choose to participate agree to charge you a lower fee. The charge will be higher than the set MBS fee, but likely less than they would've charged you otherwise.
Depending on the doctor, there are two scenarios you may face:
No Gap: Teachers Health covers the gap completely
Known Gap: The maximum gap you can pay is $400 for each Medicare item number and $800 for obstetric services.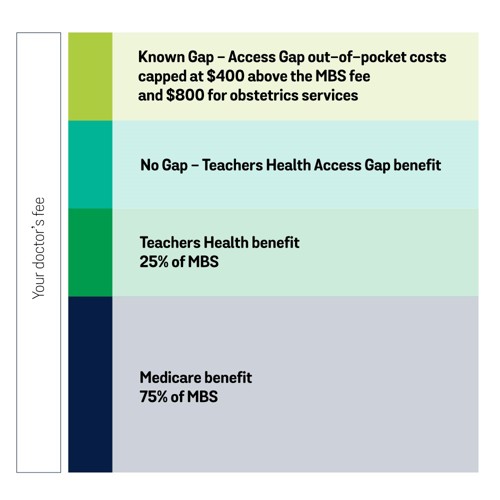 How do I get Access Gap Cover?
It's easy, ask your doctor and speak to us.
When you're planning to go into hospital as an in-patient, ask your doctors and specialists if they'll agree to participate in Teachers Health's Access Gap Cover.
You can view a full list of doctors who have participated in Access Gap with Teachers Health previously at: https://www.teachershealth.com.au/members/find-a-provider/access-gap-cover/
Remember, it's your doctor's choice whether they choose to charge you under Access Gap. And, even if they participated in it before, they may choose not to again.
If your doctor chooses to participate (or not), the doctor must provide you with a written estimate of fees for the cost of the services. This is known as Informed Financial Consent.
It's also recommended that you speak to the health fund so you can confirm if your policy will cover the procedure.
Know the right questions to ask
Do you participate in the Access Gap Cover scheme?
Will the fee you charge be covered under Access Gap Cover or will I have to pay a 'known gap' amount?
If there is a gap amount, can you provide me with a quote so I know the exact amount I will have to pay?
Can you provide me with the relevant Medicare Benefits Schedule (MBS) item numbers, so I can discuss these with Teachers Health?
Will any assisting doctors involved in my medical treatment, including assistant surgeons, radiologists, anaesthetists and pathologists, treat me under Access Gap Cover? What out-of-pocket expenses, if any, will there be for their services?
Are you prepared to send the bill to Teachers Health directly, so that my Medicare benefit can be claimed on my behalf and payment can be sent back to you?
Want to know more?
If you have any questions about Access Gap Cover, contact us on 1300 728 188 or visit teachershealth.com.au. You can also download our Hospital Guide which provides helpful info for when you need to prepare for a hospital visit.
Terms to know:
Medicare Benefits Schedule (MBS): lists a wide range of procedures, and the fee for each of these items.
MBS fee: the amount the Government considers appropriate for one of these services.
'Gap' or out-of-pocket expense: the amount a doctor or specialist charges above the MBS fee for a procedure is known as the 'gap' or out-of-pocket expense a patient will pay.
In-patient: you're classified as an in-patient in hospital when you are formally admitted to hospital to receive treatment. Your private hospital cover only covers in-patient services.
Informed Financial Consent: the cost information provided to patients, including likely out-of-pocket expenses (gaps), by all relevant service providers, preferably in writing, prior to admission to hospital or treatment.