Tax time and private health insurance – what you need to know
You've seen ads on TV, read articles about it and heard people discussing the topic. So, what's the fuss about private health insurance at tax time?
Well, there are a few things that might affect your tax return, namely the Medicare Levy Surcharge and the Private Health Insurance Rebate. What are they and how do they impact you at tax time? Read on to find out.
Medicare Levy Surcharge
There's an additional benefit to having Teachers Health Hospital cover – other than the obvious peace of mind should the unexpected happen. If you have hospital cover you are not required to pay the Medicare Levy Surcharge – a surcharge imposed on higher income earners who are eligible for Medicare but don't have private Hospital cover.
If you're a single person with a taxable income over $90,000 or are a family or couple with a combined taxable income over $180,000, and you don't hold Hospital Cover, you could pay an additional 1% to 1.5% in tax if you don't hold hospital cover.
For more information visit the ATO website.
The Private Health Insurance Rebate
Depending on your income, the government contributes towards the cost of your Hospital cover through the Private Health Insurance Rebate. The rebate you're entitled to is income tested, so if you've just celebrated a recent pay rise, don't forget to double check your income tier to make sure you claim the correct amount.
You can choose to claim the rebate up front as a reduction in your health insurance premium or as a lump sum at tax time. If you choose to claim it as a premium reduction, you'll need to nominate a tier based on your estimated income.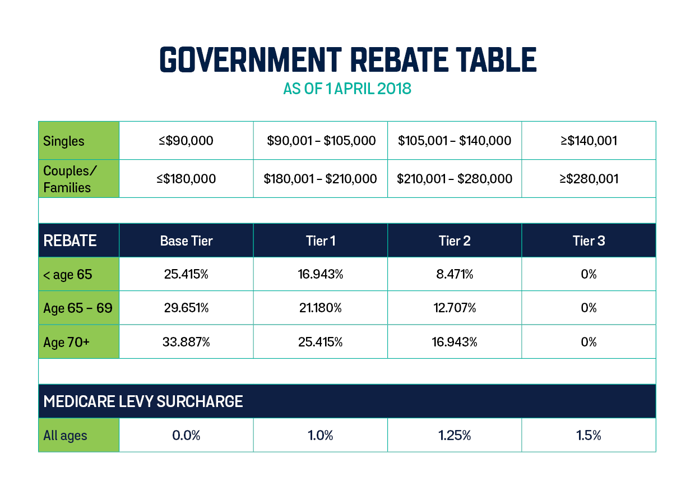 Table: Rebate levels applicable from 1 April 2018 to 31 March 2019 - source privatehealth.gov.au
Couples and single parents are subject to the family thresholds. The family income threshold is increased by $1,500 for each child after the first child.
Oops, I think I've nominated the wrong tier?
Depending on the tier you've chosen, you'll either receive a tax offset, or you might need to pay additional tax. For example, if you earn $100,000 a year and nominate the Base Tier instead of Tier 2, you may have to pay additional tax. There's no additional penalty for nominating the wrong tier.
Dependants and tax time
Any dependants on your membership aren't eligible to receive the rebate. Dependant children need to type or write your private health insurance details (membership number and health insurer ID) in their tax return, including tax claim code F if their income is above the threshold. This will ensure they won't have to pay the Medicare Levy Surcharge.
For more information visit the ATO website.
Your Private Health Insurance Statement
We'll give you a statement at the end of the financial year to help you complete your tax return. Don't forget, each adult who was on the membership during the financial year will receive their own statement.
You can download your statement from your Online Member Services (OMS) account. It's a good opportunity to check you're registered for OMS and that all your contact details are up to date.
We'll also send your private health insurance details directly to the Australian Tax Office, so you can take advantage of the 'pre-fill' option when filling out your tax return.
What does your statement show?
The statement lists your share of premium payments that are eligible for the government rebate, any rebate you've already received, and the number of days you held Hospital cover.
Keep us in the loop
A lot can happen in a year so, if your circumstances change, it's important to keep us in the loop. You can manage some changes through your OMS account. Or send us an email at info@teachershealth.com.au or call us on 1300 727 538.