National Relay Service
The National Relay Service (NRS) is funded by the Australian Government and is service that helps people who are deaf or have a hearing or speech impairment use the phone – just like everyone else.
THE NRS is available to everyone at no additional charge and it's available 24 hours a day, 7 days a week. Training to use the NRS is free.
If you are deaf and prefer to use Auslan, you can use the video relay 
To learn more about what a relay call is and how it can change your life visit the NRS and watch their video.
24-hour relay call numbers
TTY/voice calls         133 677
Speak & Listen         1300 555 727
SMS relay                0423 677 767
Download the NRS App and start making use of the many benefits of using the App rather than the NRS website.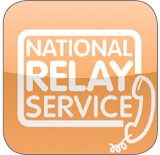 For more information on using the App download the NRS App factsheet or contact the NRS Helpdesk