Teachers Health leading the way in customer satisfaction and advocacy
Teachers Health continues to lead the way in private health insurance customer satisfaction, according to the latest research findings from Roy Morgan.
With an overall customer satisfaction rating of 85.1%, Teachers Health is the top performer out of the 15 largest insurers in Australia.
Teachers Health also recorded the largest increase in satisfaction rating year-on-year, with an increase of 2.1%. This follows on from results released in November 2016 which placed Teachers Health ahead of the largest 16 health insurers with a satisfaction level of 83.6%.
In additional welcome news, Teachers Health also topped the list in customer advocacy, with 73.3% of respondents 'highly likely' to recommend their fund.
According to Teachers Health CEO, Brad Joyce, these latest findings reflect the organisation's focus on improving the member experience.
"We're extremely proud of these findings because they once again reaffirm our position as a fund which is focused on people and not profits, placing the member at the heart of everything we do," Mr Joyce said.
"Our members' experience sits at the core of our organisation's values, and we're committed to providing the best possible services, benefits and experiences for the benefit of our members."
"It's also pleasing that our members are strong advocates of the fund and this correlates with our industry-leading retention rates [1]. Over 96% of members who join the fund, stay with the fund [2]."
The results from the Roy Morgan survey show the disparity between the smaller niche funds and the larger funds including Medibank Private and BUPA.
BUPA customer satisfaction levels have decreased to 70.7%, down 2.8% from the previous year, while Medibank Private customer satisfaction has decreased 1.6% down to 68.4%.
Industry-based funds such as Teachers Health are going against the trend of negative customer satisfaction, and in fact, showing it's possible to improve in this environment.
To view the full range of results visit the Roy Morgan website.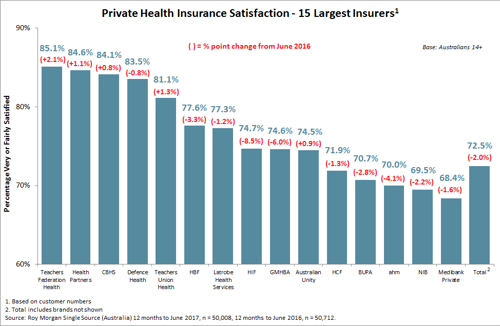 [1] Privatehealth.gov.au, member retention % of health funds registered under the Private Health Insurance Act 2007
[2] Teachers Health figures are calculated based on a 1 year retention figure for hospital policies from internal data.