Postcard from the Mediterranean – 60th anniversary competition winner!
Teachers Health was proud to celebrate our 60th anniversary back in 2014. To celebrate this milestone and to thank our loyal members for their ongoing support, we were delighted to launch an exciting promotion which gave members the chance to win some amazing prices.
The 'Major Prize' was a Mediterranean cruise, worth up to $20,000 and the lucky winner was Ruth Hunter from Victoria.
Ruth recently contacted us to say thank you to Teachers Health for the "once in a lifetime trip".
Here's more from Ruth:
"I had introduced year seven students to the wonders of Ancient Rome for many years and it was mind blowing to have the opportunity to actually stand on a Roman street, looking into the remains of shops and see the receptacles used to store flour and water, to study the mosaics, and to feel for those whose skeletons found at what was the water's edge as they tried to escape their nightmare.
This photo is overlooking the town of Herculaneum which was hit by a pyroclastic flow during the eruption of Mount Vesuvius in 79AD. This effectively preserved many skeletons and other organic based items and has left a truly amazing representation of life in a comparatively wealthy first century Roman town.
Of course, cruising around the Mediterranean wasn't bad either!
Needless to say, I had a wonderful time but what I had not expected was how much I am still enjoying it - remembering people and places.
I am very grateful to Teachers Health Fund for this once in a lifetime trip."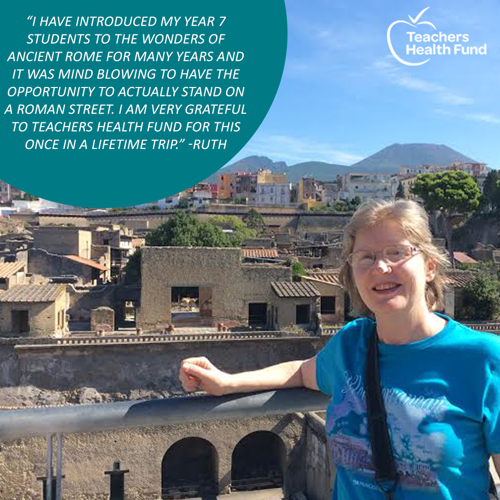 Were you one of our lucky winners? Email social@teachershealth.com.au with your story - we'd love to hear from you!